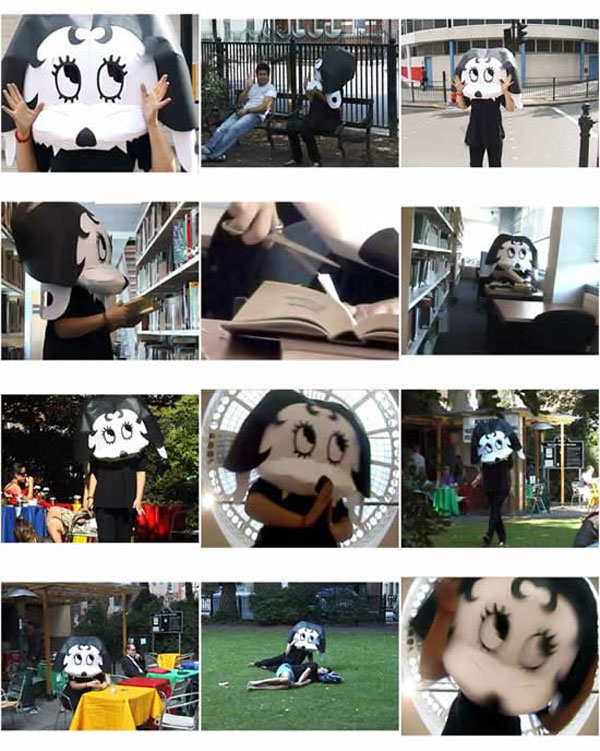 Birgitta Hosea
is taking practice-based PhD at Central Saint Martins College of Art and Design.
Her subject areas are animation and performance art. The starting point of her research is that she presumes the practice-based research methodology could fill the gap that there are quite many people doing theoretical analysis on the field of animation, however, they are not making animations themselves.
Practice-based PhD is the quite new field found in 15 years ago. This needs the contextualisation why practitioners have to do their works, and also needs the clarification of key literatures.
She started from mind-papping to visualise her fields which are very broad and abstract. She then came up with the idea of post-animation which does not make a narrative structure on the film. To apply the idea in the academic structure, the core research question 'Substance bodies and constructed actors: a practice-based investigation of animation as performance' was proposed.
She divided her practice into 3 stages: 'Animator as performer', 'Animation as live event' and 'The performative viewers'.
She performed a caracter adopting the creche of femininity on classic Hollywood's movie character in the 'Animator as performer' stage, and did a performance together with live drawings and the projection of animations in the 'Animation as live event' stage. In the 'The performative viewers' stage, she created one character from her research of the drawings of people's face using mobile phone, and defined how the woman character moves, reacts, and finally it is like a typical middle-aged British woman.
The installation consists of an interactive animation which is the situation that the woman invites you to her kitchen. Viewers and the programmed woman can correspond each other, and Hosea found out that viewers sometimes mirror the action that the character does, also every viewer interprets the character's personality differently.
These practical analysis and theoretical research will sum up together in her final stage.
23 Feb 2011
10:00 – 11:00 Academic Practice lecture MACD1 at studio Back Hill