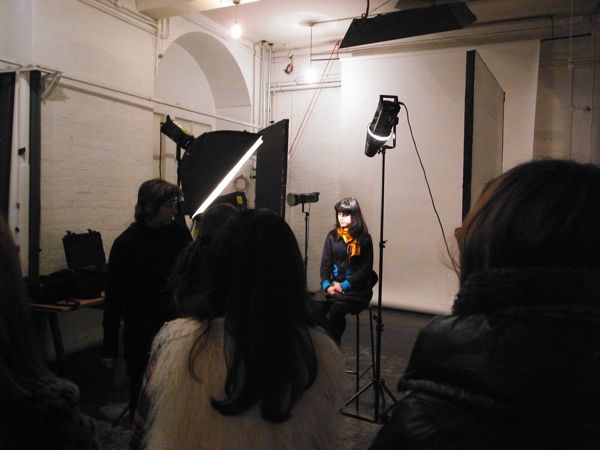 Jet introduced the facilities of photographic studio at CSM and several photographers' works.
She always kindly helps students shooting, developing and printing photography. Basically, MACD students can use the main studio, the small studio with a flat-base and a copy stand, computers with well colour-matched monitors for retouching digital images, the b/w dark room, the developing room and can borrow digital cameras from them.
I did the first experience of photograms at the dark room last time. The processes of transferring the photo paper through the chemical, rinse, fix and rinse was somehow special. When the image appeared on the paper was dramatic and addicted.
Jet also introduced several key photographers on the contemporary photographic history. Especially, the photos by Martin Parr focuses on 'ordinary' people in Britain impressed me. He traced scenes that people sat on the beach between cars, holiday camps, crowds at the ice cream shop and all of these aspects represent the Britain's unique culture with critical point of view. Also, Guy Bourdin was a unique photographer dedicated his works for fashion medias in the '70 to the '90. Although almost all of his work associated with fashion items and he rejected several offers for exhibitions and books, since his death, he has been more recognised among people through several retrospective exhibitions.
04 Feb 2011
10:30 – 11:30 Technical Practice lecture MACD1 at the Innovation Centre