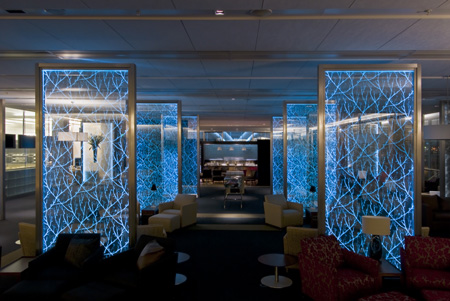 Photo:
dezeen.com
Christopher Peason
graduated at BA Graphic design at Camberwell College of Arts, and spent his MA at Royal College of Art focused on more artistic installations.
He introduced commission works for many companies from Alexander McQueen in 2002 to Heathrow Terminal 5 in 2008. As same as demonstrating his fascinating works, he introduced how difficult a designer provide a proposal for one project and accomplishes this.
His works mainly focuses on the use of the projection. He traced the pattern of William Morris' wallpaper and modified it to the animation. The idea of the animated wallpaper developed to laser-etched glass walls installations, the digital animated trompe on the wall and the animated rose windows installations. He also introduced the possibility of 3D projection mapping to install more interactive way of audiences and the art works through the projected animations, e.g. several illustrated patterns on the car and making virtual interiors on the design showroom.
Contrastively, he much concerned with the significance of the design proposals. This would be the realistic way being able to do what you want to do. Additionally, these kinds of projects often takes long time e.g. Oak Seasons glass walls and Animated Crest at Heathrow Terminal 5 took him 2 years. Often we would seem if designers made works well they could automatically receive well commissions, however the technique to propose or promote their works should also be more significant to be considered.
02 Feb 2011
18:00 – 19:00 Professional Practice lecture MACD1 at G12 Southampton Row