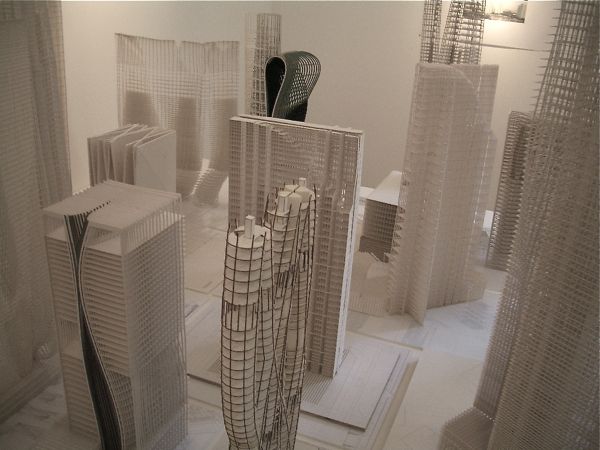 Rapid Prototyping is recent trend for making mockup designs.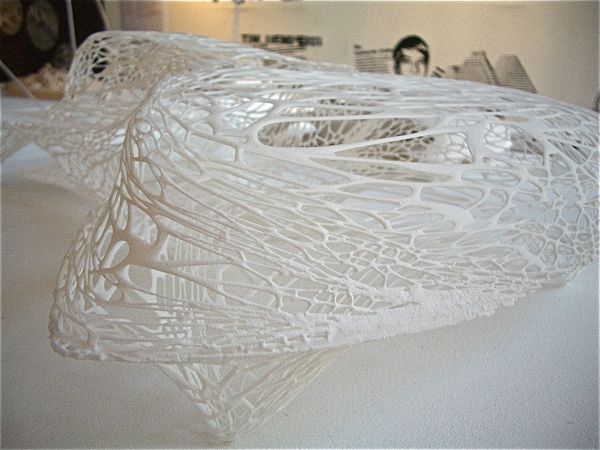 I firstly saw models made by RP systems at an AA school's exhibition. Their models were amazingly complex, consisted of organic shapes and plenty of modules. Rapid Prototyping makes these complex structures possible.
- Use of models
Because of the easiness of modification, RP is widely applied to making concept models for any types of products such as cars, electronics and architectures. Even the US military has been using the Rapid Tooling process for their applications since the decade of Iran-Iraq War.
- How it works
For instance, on the 3D printer using CAD data, laser beam respectively cuts plastic material to like layers of contours, then stacked layers compose the shape of the 3D object.
The process is fully automated, requires not much more skills than other model makings. This costs approximately 50% less expensive and 70% faster than hand-made processes.
- Main types of prototyping
There are several types of prototyping:
Stereolitography
(SLA),
Selective laser sintering
(SLS),
Fused Deposition Manufacturing
(FDM),
3D Printing
,
Laminated Object Modeling
(LOM) and so on.
- Design rules for RP
The use of 3D CAD data is only accepted. High-end applications such as Solid Works, Cafa, Maya are needed. The possible maximum size is limited by the machine. A specific extention '.stl' is needed.
- Future of RP
More types of materials will be developed. So far only plastics are available, bio materials are expected for medical purposes. Bigger size of the machine and faster speed of the process are considered. And huge expectation is the Rapid Manufacturing. This is the new concept of production. Retailers will only have a RM machine at their store. Once a customer decide the product, s/he just insert data into the machine, then can receive the product after couple of minutes. This new process will have potentials for saving material consumption. Also, large stock will never be necessary.
21 Jan 2011
10:30 – 11:30 Technical Practice lecture MACD1 at the Innovation Centre