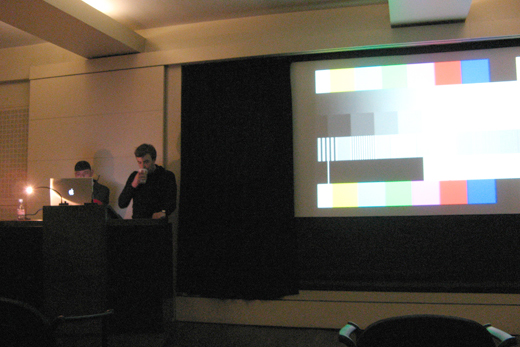 Photo from
Mind Design's web site
Holger Jacobs and Craig Sinnamon from Mind Design came to CSM.
Mind Design is an independent graphic design studio, based on east London, Hackney.
They are basically doing graphic or artistic part of branding works using printing and typographic approaches rather than marketing strategy.
They often consider flexibility of logos. For example, on their works for
CIRCUS
, the design of the logo has several variations such as outlines and the shape of a kaleidoscope. Although, the inside elements change depending on its application, basic construct always remains the same.
Jacobs these days fed up with the use of modernistic strategies represented as straight shapes and Helvetica types. He came up with to refer to the idea of Art Deco to make an identity for a model agency,
TESS
. They took more decorative element on the basic shape of logo mark, at the same time considered legibility of it. I was impressed by the idea using a graphic of decorative frame on photos.
They normally develop the idea of identities from some elements of clients such as a shape a tooth for dentistry,
D100
, and a shape of a leaf to tea brand,
Tea
. Once they come up with the solid concept of the identity, it can flexibly be applied to any kind of material.
They also concerned these days huge competition of internships at the design studio. Some clients even ask studios to do low expensive work using interns. Also some interns already have enough skill and experience to work as a designer or to establish their studios.
We better consider these debatable conditions on the design industry, perhaps, consideration of wider possibility of the graphic design would be one of the key element even I haven't yet come up with the clear view of this.
19 Jan 2011
18:00 – 19:00 Professional Practice lecture MACD1 at G12 Southampton Row