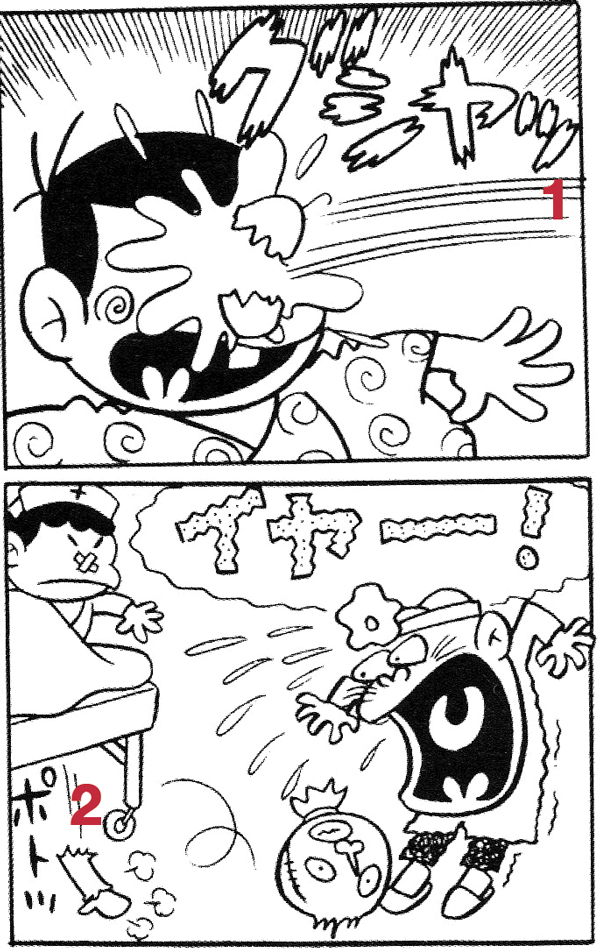 Words of sound effect on 'Gag Guerilla', Fujio Akatsuka (1972 – 1982)
1. Gusha
2. Poto
Today's lecture, Deconstructing Comics attempted to analyse the structures, cultural contexts and layout systems on the comics.
We focused on on of the most famous American comics, Superman published by
DC comics
.
- Content analysis
Positive and negative aspects were discussed. Mainly people didn't prefer too glossy images, muscularity, and all letters were capital. On the other hand, images had dynamism, were well drawn and layouts were well formated.
- Close
Targets are obviously teenage boys. There was on woman in the story. Hero's stories fighting with bad guys encourage boys effort. This is something related to mythologies of perfect human.
- Historic context
'Why can the superman exist in America, not in Europe?' is the key question to consider historic contexts. DC comics takes cliches of American history, eg. Thomas Paine's
Common Sence
.
-Economic Context
Publisher DC comics is a subsidiary of
Time Warner Inc.
Time Warner Inc. covers every part of entertainment industry from broadcasting to publishing. Attentively, they evaluate their movies from Warner Bros. on their magazine, Times.
The lecture was carried on other part.
- How do comics work?
As we say 'comic' or 'comix', there are several type of them: Graphic novel, Small press, E-comics and Manga. Graphic novel normally drives more political, and some hippy's novels about sex/drug were famous. This is normally published as a hardcover book. Small press is independent, handmade. Sometimes this takes a parody of DC comics hero stories. E-comics are usually web-based and has more technological functions such as quick-through navigation systems. And Manga is well known as a style from Japan or Korea and other Asian countries.
- Mechanism
Gutter between each box determines the time flow. Each box is separated as distinct things by gutter.
- Layout
In Western countries, a page starts from the top-left and end at the bottom-right, however in Asian, it starts from the top-right and ends at the bottom-left. Grid systems have some distinct effects such as cinematic way and dynamic way.
Chris Ware
takes unique random layout on his comics.
- Manga tradition
Normally, Japanese people read Manga much faster than other countries'. Its layout system basically takes traditional style of Japan, however, it tends to be more freedom. It has rich variations of sound effect words such as Doba, Dogagagaga, Shupa, Shiine etc.
- Scott McCloud
Further research to understand comics, McCloud is author of Understanding Comics, a comic book about comics. He's an evangelist for comics as a valid literary form (as more than pulp and kids' stuff) and his admiring fans include a laundry list of superstar cartoonists. (From
TED.com
)
19 Jan 2011
10:00 – 11:00 Academic Practice lecture MACD1 at studio Back Hill